Tomorrow we will be part of the world's biggest event for makers, the Maker Faire Bay Area! Last year in NYC, we came to the stage of Maker Faire for the first time and was deeply impressed and motivated by the event. In the following 8 months, we have done a lot towards the goal of our project. We went onto Kickstarter and got hundreds of backers after the campaign. We set up our online store for accepting orders from worldwide.We kept improving our key product, Freematics OBD-II Adapter and released V2 of it. Being in the maker movement, we are just motivated to go towards our goal while also being able to enjoy the the whole process.
We are so excited to come back to Maker Faire to show the world what we have done through the months. In this show, we will be presenting 3 major works.
This is the core product of the project. The V2 comes which has following changes/improvements: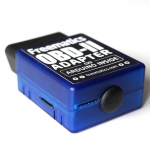 Faster OBD-II data access (up to 100Hz)
Built-in GPS support (10Hz data update rate)
ATMega328p as main controller (compatible with Arduino UNO)
SPI breakout slot for communication or programming via ICSP
MicroSD socket breakout slot for easy inserting/removing card
Freematics OBD-II Emulator V2
Our OBD-II emulator is really a derivative product which was originally made for our internal use only. When we tried pushing it to market, it got unexpected popularity so that we decided to make it better. The original version uses 9 knobs for adjusting the value of 9 OBD-II PIDs. The physical knobs are handy to use but in some cases when we want to adjust more PIDs or do it programmatically, a data interface is necessary. The V2 comes with a serial data interface of a simple AT command-set which goes through TTL, USB or Bluetooth. By sending AT command, the value of OBD-II PIDs can be altered and the change is reflected on the simulated data bus and finally on the OBD-II port. The physical knobs are removed as we will make a good PC software and iPad/iPhone App for the same and even better experience. As the emulator also provides TTL serial UART breakout, it is possible to control the emulator with an Arduino or other hardware. This can be used to emulate a standard OBD-II port on a vehicle which does not have one with actual data obtained by other means.
Arduino OBD-II Logger Kit based on Arduino DUE
We have been providing different Arduino OBD-II Logger Kits which are popular among makers who want to make a vehicle data logger with a display. The Kit #3 originally consist of an Arduino MEGA 2560 and a 2.8″ TFT LCD shield. It is to be upgraded to Arduino DUE and 3.2″ TFT LCD shield.
The above 3 highlights are what we will present at this Maker Faire. Come to see us if you are hanging around!